A Note From Gwen
A personal favourite, Nurse to the Billionaire's Son delves into the world of the taboo, with a billionaire's bride-to-be who finds herself particularly captivated by the brooding billionaire's son who has fallen under her care after a skiing accident.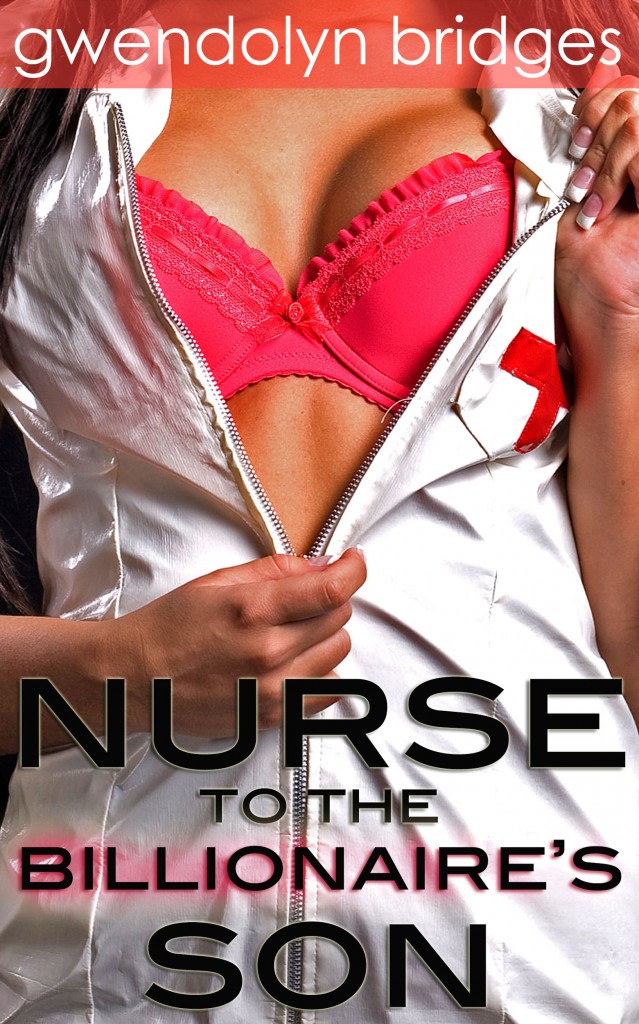 Nurse to the Billionaire's Son (Taboo Erotic Romance)
By Gwendolyn Bridges
When her billionaire fiancé's handsome twenty-year-old son injures himself in a skiing accident, forty-year-old Sophie Morgan volunteers to play nurse. She thinks it'll be an opportunity for her and her rich husband-to-be's son to grow closer, but she doesn't realize just how close they'll get. Sophie soon realizes that the young man in her care requires a special kind of healing touch, and is forced to ask herself how far she's willing to go to be a good nurse to the billionaire's son.
WARNING: This 12,000 word erotic romance story includes taboo scenes involving a conflicted older woman tending to the needs of a younger man — needs that include mutual masturbation, oral sex and taboo touching, all climaxing with tender yet passionate romantic sex.

EXCERPT
From "Nurse to the Billionaire's Son" by Gwendolyn Bridges…
I reached into the back pocket of my jeans and pulled out a set of latex gloves. I smiled.
"Like I said, I've been trained. You have a medical issue. There's a medical solution."
"You're serious?"
"Why wouldn't I be?"
His forehead creased with concern. "But, my father–wouldn't this be…"
"Shh," I interjected, quieting him. "Martin told me to take care of you. To help you heal. That's what I'm doing. And nothing else."
He lay back, returning his gaze to the ceiling, then exhaled deeply.
"Okay," said the boy. "If you think it will help."
I took a deep breath too. Here goes nothing, I thought. I wasn't sure if what I had told James was totally medically accurate. My nurse training was both incomplete and out of date, and I don't recall this specific problem ever being addressed. But I'd always been an innovative problem solver. And James was a problem.
I pulled back the sheet that covered his legs, both of them covered in heavy plaster casts. Right away, I could see his arousal. His throbbing erection tented his boxers. Through the thin material, I could make out the veins and head of his thick cock.
The latex gloves fit over my hands with a satisfying snap. I wasn't sure they were entirely necessary, but I figured they would help make what was about to happen feel more like a medical thing and less, well, sexualized.
"You ready?" I asked, as I bent over from a standing position and reached for his waistband. He kept his eyes away from mine, staring at the ceiling.
"Yes," he said.
I pulled his boxers down. His manhood sprung into view instantly, pulsating wildly with engorged excitement. I wondered how long it had been since James had last felt satisfaction. Judging by the state of his cock, it had been a very very long time.
I moved a latex-covered hand toward him. I willed myself not to look back up at the boy's face as I did this. Focus on the task at hand, I thought. Don't make this anything more than it is.
But I couldn't help but feel a familiar tinge of excitement run through me as I pressed my palm against the skin of James' cock. Couldn't help but feel a stirring within me as I felt the warmth of his member. I had always loved pleasuring the men in my life. How I could so easily take their pleasure into my own hands. Right then, James was no different.
I wrapped a hand around his cock tenderly, then gave it a gentle, slow jerk. Up, and then down. Up, and then down. I couldn't believe how much he was throbbing in my hand. I could feel him ready to burst.
Buy NURSE TO THE BILLIONAIRE'S SON in the Kindle Store today!