A Note From Gwen
A long-awaited sequel to one of my early titles, MAKING THE ROYAL BABY — aka A ROYAL BREEDING —, this story picks up where Princess Anna and Prince Robert left off, following their sexy and romantic story as they become parents. Look for the last chapter in the trilogy, MAKING THE ROYAL BABY, PART THREE: THE REIGN, out soon!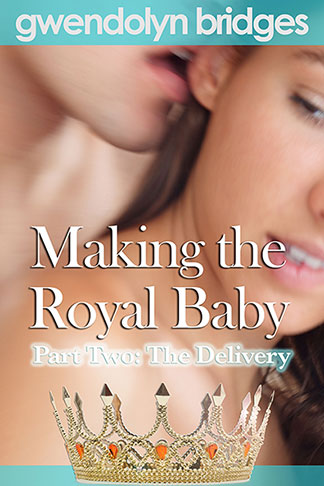 Making the Royal Baby, Part Two: The Delivery (Breeding Erotic Romance)
By Gwendolyn Bridges
Part two in the best-selling MAKING THE ROYAL BABY series!
Following a long night of passion, Princess Anna is pregnant with the royal baby and couldn't be happier. She even comes up with a sexy and sensuous way to share the happy news with the prince. But life as a pregnant royal isn't all it's cracked up to be. With her husband away on a military tour and her due date approaching, Anna starts to feel like a prisoner in her own castle. Can the prince come to her rescue? And once Anna's pregnancy gets past its due date, will the prince and princess take their doctor's advice and engage in some vigorous sexual activity to naturally induce the birth?
This 12,100 word story is a work of erotic romance with scenes of vividly-described sex between a prince and his pregnant princess.
For the first sexy and romantic chapter, look for MAKING THE ROYAL BABY, PART ONE: THE CONCEPTION.

An excerpt…
Robert took my hand and helped me to my feet. My body ached with various pregnancy pains, but none of that mattered. I leaned against his arm as we walked down the hall to the bedroom, our footsteps on the hardwood floor echoing through the empty cottage.
When we got to the bedroom, standing in front of the large four-post bed, Robert turned to me and with his hands pressed against my arms asked me one final time: "Are you sure you're up for this?"
I answered him with another kiss, more passionate this time, pressing the whole of my body against his and drawing my hands down his back. He responded in kind, letting his fingers trace my spine and then caress my backside.
"I'll take that as a yes," he said quietly, kissing down the side of my neck while bringing a hand to my heavy, swollen breast. Even through my maternity dress, the sensation of his hand against my sensitive skin sent electroshocks through my body.
"Oh god, you're so good," I moaned, as he brushed against my nipple and drew his tongue down the side of my neck. I wrapped my arms around him tight and pulled his hips against mine, so I could feel his rapidly hardening manhood press against me.
"Mmm, you're so turned on already" I whispered, as his hand found the zipper of my dress and pulled it down slowly.
"You turn me on," he said, as he reached down for the hem of my dress and carefully pulled it over my head.
There was the briefest flash of panic as I stood there in my underwear — some old insecure instinct from my younger days — when I suddenly worried that he'd see my body, with my swollen stomach and untoned arms and legs, and turn away in disgust. It was silly, I knew, and he proved it, by pulling my near-naked body against him, then by running his warm hands over my bare skin, making me shiver with pleasure.
We kissed again, and as we did I reached down and found his belt buckle and carefully — a little awkwardly — undid it. Next I undid his pants and let a hand slip inside, immediately feeling his warmth against my palm. Even through the thin material of his boxer briefs, I could feel his intense arousal. I remembered his words: I want you always — now I could feel them, every inch of them, expressed in desire.
For more, buy MAKING THE ROYAL BABY, PART TWO: THE DELIVERY in the Kindle Store today!