A Note From Gwen
After a long layover, I've returned with a new title. PREGNANCY PACT WITH THE BILLIONAIRE tells the tale of Robyn, a young literary agent in New York City whose life is thrown upside down when an old friend comes back into her life with talk of a pact they made years ago. If you like it and want to see part two, send me an email!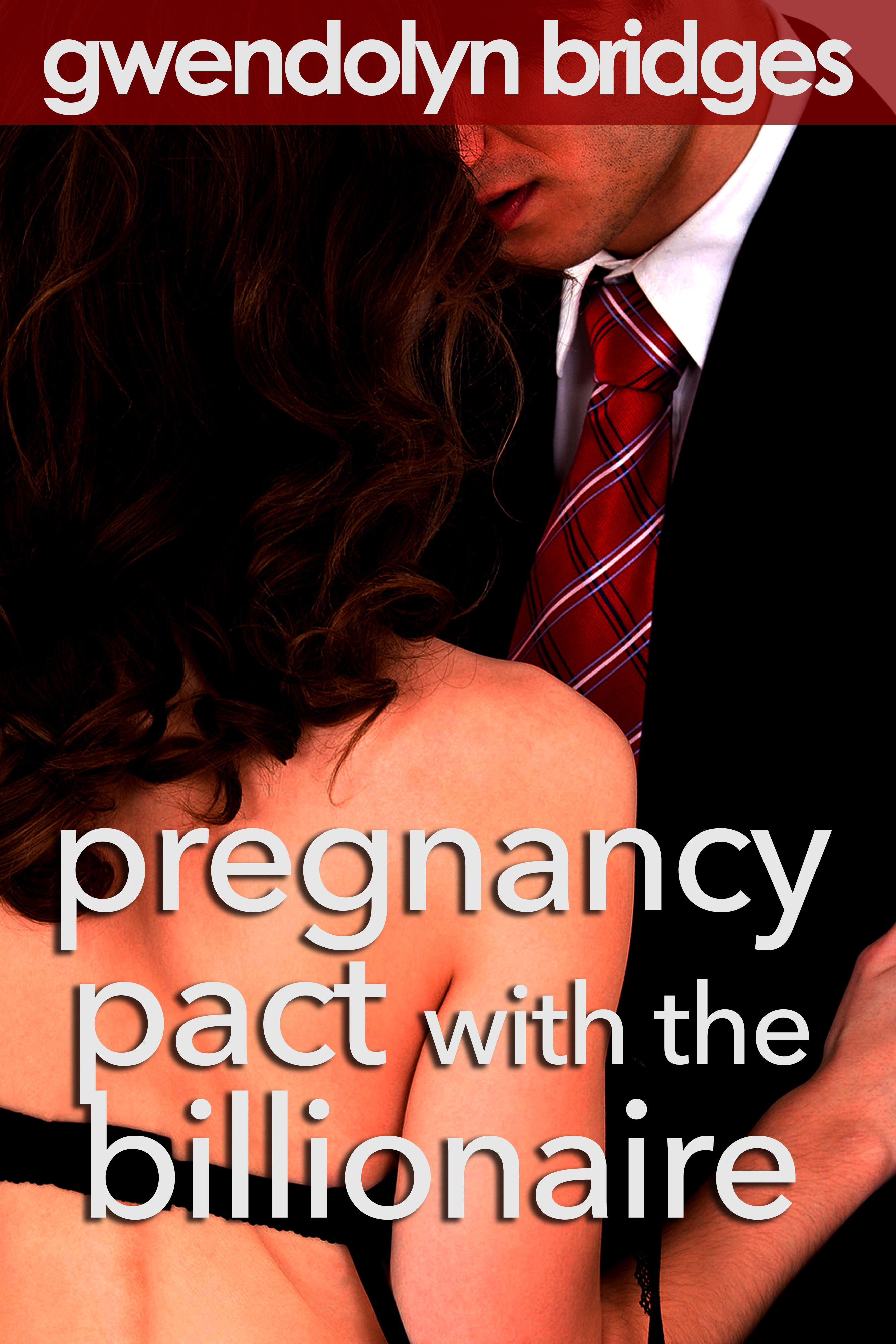 Pregnancy Pact with the Billionaire
By Gwendolyn Bridges
A new story from the best-selling author of CARRYING THE BILLIONAIRE'S BABY!
Robyn still remembers the moment she shared with Tyler Banton when they were both 21-years-old. A night of daring skinny-dipping led to a pact: an agreement that they would find each other and start a family if neither of them had found anyone else in fifteen years. But fifteen years later, Robyn and Tyler are leading totally separate lives. She's a New York City literary agent, and he's a famous billionaire. Still, memories of their pact linger, and when Tyler comes back into Robyn's life, she's surprised when he asks if their agreement still stands.
This 11,150 word story is a work of erotic romance with scenes of vividly-described sex.

An excerpt…
"You sure about this, Robyn?" Tyler asked me, his features invisible in the low light.
I smiled. I was sure. Tyler and I were both 21-years-old and had lived pretty boring lives. We always played things by the book. He the bookish academic and me the church-going good girl.
That night was different. It was time to do something wild.
Glancing back at the camp buildings on shore — all the lights in the cabins still unlit — I quickly and impulsively pulled my t-shirt over my head, letting it fall onto the dock.
"Yes," I said to the shadowy boy in front of me. "Let's do it."
I heard a rustling sound as he started to undress too. I let my shorts fall to the ground. Standing in the warm late-August area with just my bra and panties on, I pushed aside the last few strands of reluctance. The summer Tyler and I spent together working as senior camp counsellors had been magical. At first we had nothing in common — then we had everything.
It wasn't a summer fling. It wasn't like that. We hadn't gotten physical. It was something better. Something like friendship ramped up to an absurd level. The kind of friendship where you just want to sit beside a person and be with them and experience them and talk to them endlessly. We talked so much, late into mosquito-bitten nights, about life and change and goals and fears. About love and loss.
Tyler was a shy boy. Bookish, with black-frame glasses and a tangle of thick hair. I was more of a Plain Jane — straight auburn hair and freckles on both cheeks. I almost groaned when the camp director told me I'd be working with him. We came from such different worlds, I couldn't imagine that we'd click.
And yet there I was, reaching behind my back to unclasp my bra, then sliding my panties down my legs. I was naked in the night air, and knew Tyler was too. At that moment it was like there was no one else in the world but us.
"Ready?" he asked quietly. "On three?"
One last pang of reluctance. What if people hear us? What if people see? God, I'd just die of embarrassment. I took another quick glance back at the camp buildings, hoping that Tyler couldn't sense my nervousness.
He didn't wait for an answer. "Three, two…" he started. I heard his bare feet running toward the end of the dock. "ONE!" he shouted, as he launched himself into the lake with a splash.
I took a deep breath. There was no turning back now. I looked up at the moon and ran forward, the boards of the dock straining beneath my feet. Eventually I ran out of dock, and jumped into the darkness, feeling every bit of the night air against my naked body. I was totally free.
Then I was wet.
The water rushed over my naked body. At first it felt just unbearably cold, but I adjusted quickly as the waves embraced me. I don't think I screamed.
For more, look for PREGNANCY PACT WITH THE BILLIONAIRE in fine eBook stores today!