A note from Gwen
Thanks to all my readers for making this my best seller ever! It was one of my absolute favourites to write. In this story, a spurned plus-sized bride ends up in a jail cell where she falls under the spell of a handsome, dominant sheriff. Handcuffs and a spanking follow! 😉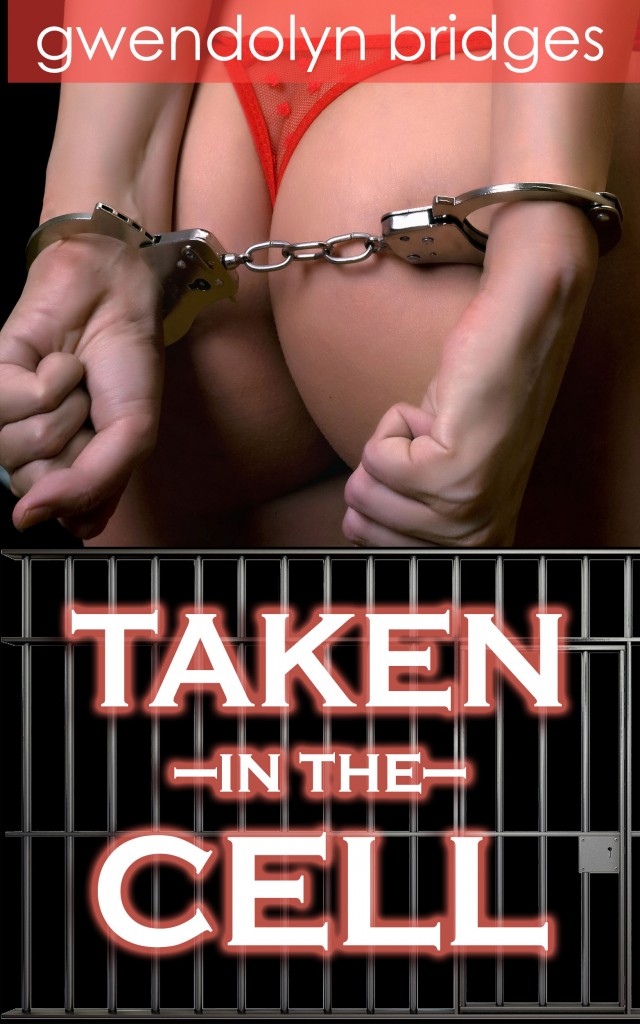 Taken in the Cell (BBW BDSM erotic romance)
By Gwendolyn Bridges
Plus-sized professional Grace Pearce thinks she's got it all — a great job, a new home and a seemingly perfect fiancé. But after her world gets shattered when she catches her husband-to-be in a compromising position, she wakes up alone (and unclothed) in a jail cell. There, it takes the passionate — and pleasantly painful — touch of a handsome small town sheriff to make her understand what desire really means.
WARNING: This 7,000 word erotic romance short story includes hot jail cell scenes of teasing, bondage, spanking with a police baton and incredible earth-shaking sex between a conflicted BBW and an older, dominant police officer.
EXCERPT
I felt flush with embarrassment. I wanted to disappear, to skip out of this situation, to avoid having to hand this stranger the only piece of fabric between the open air and my bra and panties. ButI knew I was trapped. I could feel the officer's eyes on me and the cold embrace of the handcuff around my wrist. Like I said, trapped.

I pulled the blanket away from my body slowly and held it toward him, exposing myself to him. The sheriff grabbed the blanket and tossed it aside casually. I thought about bring a hand up to shield myself, but there was no way a single hand could block his view of my ample breasts or do much to hide my panties. I let my right arm fall to my side. There was no way to resist.

The officer stepped toward me again, as I shivered with the chill in the air and the anticipation of what could happen next.

"Ms. Pearce," he said. "You keep saying that no man will want you…"

He reached for his holstered baton again, gripping the handle slowly and drawing it out into the air between us.

"…I think you're lying."

Softly, slowly, he pushed the end of his baton toward me. He let it brush against the side of my body, where it drifted down the curve of my hip and against my thigh. I shuddered as the smooth black wood ran against my goose-bumped skin.

"'Cause, see, Ms. Pearce, you know who you are — and you know what you look like."

The baton moved up, over my panties and across my stomach, pausing as it drifted over my breasts.

"And you know what you can make men feel."

The baton moved over my cleavage, almost caressing me through my bra. I could feel my nipples hardening beneath the sheer material, responding to the rough touch.

The officer continued speaking as he drew his baton down my stomach again, past the waistband of my underwear. "I need you to be listen, Ms. Pearce. I need you to be good and do what I say." The baton pressed lightly against my mound. "And, most of all, I need you to stop with all this damned talk about how no man will ever want you."

The baton was pressed harder against my panties. I could feel my lips spreading slightly, growing wet. But then the officer drew the baton back up, over my stomach and my breasts, caressing the side of my neck, not stopping until he reached my face.

"Can you do that, Ms. Pearce? Can you listen?"

The baton pressed against my cheek, big and black and shiny. He pressed it against my mouth and, without even thinking, I opened slightly, tasting it.

"I'll take that as a yes," he said finally.