A note from Gwen
For all royal obsessives (like me!), an erotic tale of romantic breeding tale inspired by our favourite newlyweds!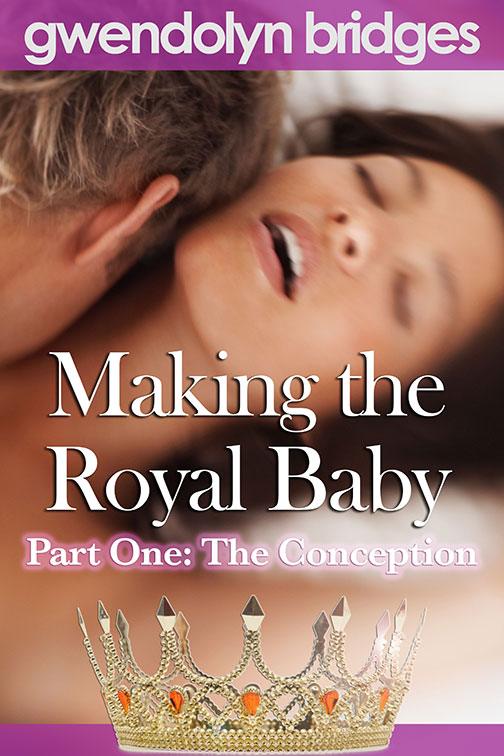 Making the Royal Baby, Part One: The Conception (breeding erotic romance)
By Gwendolyn Bridges
The first chapter in the MAKING THE ROYAL BABY series! When Anna met her dream man, she had no idea he was the prince and future King! But after the magic of their royal wedding fades, she finds it hard to wear the crown and deal with the vicious tabloid media who are relentless in their desire to see Anna give birth to the heir to throne. When the prince learns of Anna's frustrations, he hatches a plan to breed with his princess–as many times as it takes!
This 9,700 word story includes sweet and sexy romance between newlyweds, both determined to get pregnant.

EXCERPT
I was lost in the moment. The feeling of his hands on my body, his lips against mine, all that heat we shared. I had missed all of him so much.

But I snapped back to reality when I felt his fingers working the tie on the back of my bikini top, pulling it loose, right there, outside, on the cottage's sun deck.

I pulled my lips away from his and gasped.

"What are you doing?" I asked. "We can't… not here."

I put a hand against my chest, holding my top in place.

Robert smiled a devilish smile. "Why not here?" he shrugged. "I've made a pretty good plan."

"What?" I asked, as he resumed running his hand over my body.

"We're all alone. I arranged it all. The staff have all gone. The security have been instructed not to approach the grounds. There is no one else in our world right now except for us, my darling wife."

He pulled at the front of my bikini. I let him go without resistance. He tossed the garment to the side, and took in my heaving breasts, rising with deep breaths, my nipples rock hard from the pleasure of our kissing.

"See?" he said. "Freedom."

Standing out there in the sunlight, half-naked, was strange and exciting. I'd never done anything so daring. But I fancied it. I had to admit, I fancied it a lot.

"And the rest of your plan?" I asked, nestling my naked breasts against his chest as he wrapped me in his arms again.

He laughed. "Well," he said. "We're going to get you pregnant."
Buy MAKING THE ROYAL BABY, PART ONE: THE CONCEPTION at Amazon.com!